Fact: In addition to individuals currently out of work, 36% of the workforce is currently looking for a (better) job. That's a lot of competition.
Our Opinion: "If you're not currently running your job search like a sales campaign, you're doing it all wrong."
Outcomes™ Web-based applications allow job seekers (applicants) to manage their job search, and present themselves in the best light, and more completely than any other system. Presentation. That encompasses as much as 80% of a successful sale.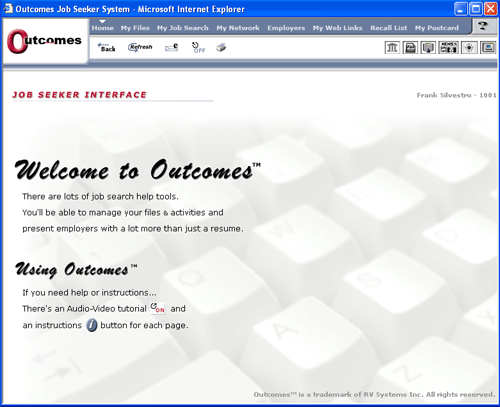 Our web-based application functions:
My Files

Personal and Demographics

Resumes

Highlights

Cover Letter

References List

Job Skills Hard

Job Skills Soft

Certifications

Job Experience

Industry Experience

General Criteria (like Education)

Applicant Postcard (W/Optional Video)

Job Bank

News Bulletins

Illustrated Help Manual

Web Help Section

Company Research

Career Info

Wage Info

Job Sites

Search Engines

Job Fairs

General Job Help

My Job Search Spreadsheet Program

Networking Contact Database

Employer Contact Database

Virtual (text to voice) Interviews

Recall Contact List Reminder

E*Portfolio

Reports

Audio Video Tutorial
These features are all designed and operate with three purposes in mind: capture and collect all the data necessary for a successful job search, organize it, and help you to present the right parts to the appropriate employers.
It's high-tech with an amazingly user friendly and simple functionality. No programming or special skills required. You just need to be able to read.
You'll have an E*Portfolio to use, for sending employers all kinds of helpful files and artifacts.
I.E. Let's say you worked as an assistant manager in an HR department. And you developed an innovative Excel spreadsheet concept, for tracking aspects of your company's job placement activities...
A few mouse clicks, and you can attach a sample to your E*Portfolio for employers to see.
There's a creation wizard, and you can have up to 4 different resumes stored. Same goes for Cover Letters.
There's a tool to keep all your online user names and passwords straight.